PINK ELEPHANT IS THE WORLD'S ITIL® 4RUNNER!
---
Pink Elephant once again leads the way in ITIL certification! Choose the world's ITIL 4runner for your ITIL 4 certification.
When it comes to ITIL and IT Service Management, Pink continues to stand out – after 25 years and 4 versions of ITIL, we're still the one everyone looks to first.
Over the years, NO OTHER organization has been as deeply entrenched and influential in ITIL as Pink. Having played many major and key roles in the development of ITIL over the years and now the new ITIL 4 line up of courses, we're extremely passionate and excited about this new release! Look no further than Pink Elephant for your ITIL 4 training and certification.
ITIL 4 CERTIFICATION PROGRAM
---
The Foundation course is a mandatory requirement for all other courses.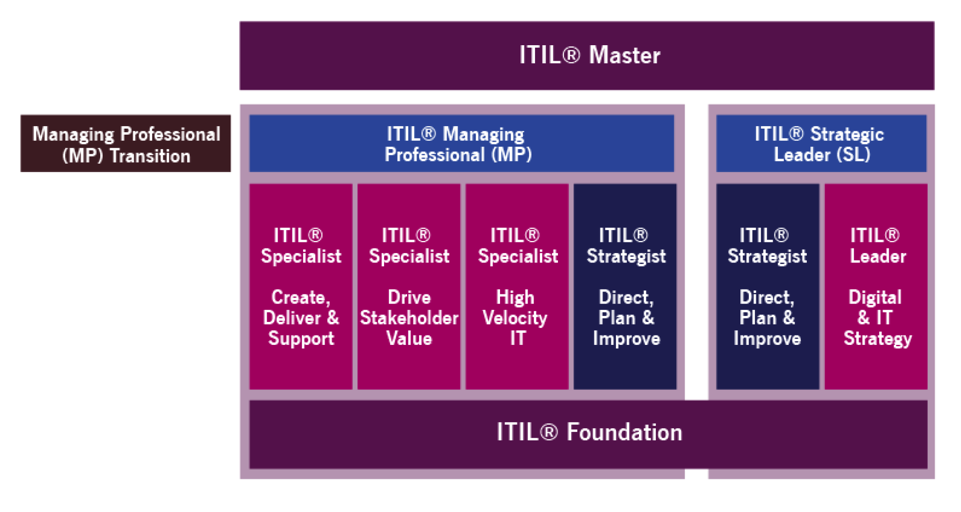 To check availability for other courses in the ITIL 4 certification scheme, click here.
ITIL V3 TO ITIL 4 TRANSITION CERTIFICATION COURSE
---
When the remainder of the ITIL 4 courses are introduced in late 2019, there will be a "bridging" course available to those individuals who have acquired 17 credits in the ITIL v3 certification scheme. This is one of many reasons why IT professionals are encouraged to continue to participate in the v3 certification program.
Click here to view Pink's ITIL v3 courses and certification scheme.
ITIL 4 FOUNDATION COURSE OVERVIEW
---
This two-day course prepares you for the examination leading to the Foundation Certificate In IT Service Management.
The course is designed as an introduction to ITIL 4 and enables you to understand a new way to look at IT Service Management through a Service Value System (SVS).
What's the difference between ITIL v3 and ITIL 4? In a nutshell, ITIL v3 describes Service Management around 26 processes and functions that are part of a continuous process of 5 life cycles: Service Strategy, Service Design, Service Transition, Service Operation and Continual Service Improvement. All of the v3 body of knowledge is still very worthwhile and relevant!
ITIL 4 takes you through a more evolved view of a Service Value System (SVS), which provides a holistic end-to-end picture of what it really means to contribute to business value, and also integrates concepts from models such as Lean IT, Agile and DevOps.
At the end of this new two-day course, attendees will have an understanding of the following:
High level overview of ITIL v3's 5-step Lifecycle model and how the current 26 processes and functions map to the new ITIL 4 model SVS model
The seven Guiding Principles of ITIL 4
ITIL's new Service Value Chain
The four dimensions of Service Management
The 34 ITIL practices, with a primary focus on 18 of these
Key concepts from Lean IT, Agile, DevOps, and Organizational Change Management, and why these are important to deliver business value
WHO SHOULD ATTEND?
---
The ITIL 4 Foundation Certification Course is designed for anyone working in IT looking for IT Service Management education and an understanding of how to provide business value. Also, anyone who is looking to upgrade their ITIL v3 certification and knowledge.
PREREQUISITES
---
There are no mandatory prerequisites.
EXAM & CERTIFICATION
---
This course prepares participants for the examination leading to the Foundation Certificate In IT Service Management. The exam is 60 minutes in duration, includes 40 multiple-choice questions and is administered online by an independent examination body. Participants are provided with an exam voucher so they can schedule the exam at their convenience on any date after completion of the course.
A passing mark of 65% is required to receive your certificate. An exam review is included in the course to help prepare attendees for the final exam
You will attain 12 professional development units (PDUs) for Project Managers
MULTIPLE OPTIONS FOR HOW YOU CAN ATTEND THIS COURSE
---
Self-Paced Online:

Learn at your own pace from your computer, anywhere at anytime. Get the FULL course in e-learning format for three months.

Public Web-Based:

On specific dates throughout the year; hosted live online with our expert instructor.

In-House:

Live Classroom: On dates convenient to you; exclusively for your team at your location with our expert instructor.
Web-Based: On dates convenient to you; exclusively for your team, hosted live online by our expert instructor.
If you would like more information on any of these options, please call us at 1-888-273-PINK, email us at info@pinkelephant.com, or ask your questions via our convenient Chat window at the bottom right corner of this page.
SPECIAL OFFER – ITIL 4 MANAGING PROFESSIONAL (MP) PASS
---
Save BIG With our Bundle
This course is included in our MP Pass bundle – save over 50% off regular course fees and fast-track to achieving your ITIL 4 Managing Professional designation!
We're making it even easier and more cost-effective for IT professionals to obtain their MP designation. For a limited time, Pink Elephant is offering the MP Pass, which bundles all five advanced MP courses into one package, at a much lower cost than taking each course on its own.
The Pass includes access to all five MP courses and is offered in self-paced online format or live, virtual, instructor-led format.
Find out more about our special offer, including how to purchase here!
SHOPPING CART
---
View terms and conditions related to public courses.
Fees do not include applicable tax, which is payable for all events presented in Canada.